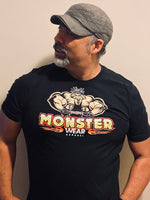 About Monster Wear
The Vision for Monsterwear has been a long awaited dream to fulfill. I have always had an extreme Admiration and Respect for the Lifting Community. Especially the Mountain of men that lift Heavy and Hard! Those who are on a mission to get Bigger and Stronger everyday! Whether you scream or bleed to get through it, I wanted to create and capture the Look, the Intensity and the Monster mentality of going all out in a Workout!
- Owner Armando Vera
The Monster Attitude
Monster Wear Apparell, created for those in the Lifting community who live to
Battle Iron! Seeking relentlessly, Monster Muscle, Monster Mass and a
Monster Body! An Attitude and Mindset that Unleashes the Strength within you to
overcome any Weight, any Struggle or Obstacle in Life!